I've always indirectly searched for a cream to make my hair curly... you know more curly. Why? You may ask, well two main reasons:
1. sometimes I just feel like having really easy immediately cute hairstyle that I pretty much have to do NOTHING to- you know just get up and go. Braids are cool, but sometimes I want something a bit looser and I feel if I could make my hair very curly I could have this look.
2. because I've wanted to try the sorta curly weave and I want it to blend in perfectly. So I figure it wold blend best if I made my hair the same texture as the weave naturally instead of curling it every morning
I don't know how well this product works, perse, but many many women SWEAR by it---
Miss Jessie's Original Hair Cream
. She has an array of products that seem to almost instantly make your hair curly... the only problem is, is that I don't know how well it works on permed hair. But it works WONDERS on natural hair.... I personally feel EVERY girl with natural hair should go into one of Miss Jessies locations and get her treatment. It seems to make the hair grow while looking fabuously healthy and beautiful.
Check out some of these before/after pictures. After seeing them I'm a little upset I permed my natural hair... longstory short I wore weave for about 2 years and wore my hair natural underneath... it grew sooooo much, "my afro" was huge- when pulled straight my hair was about mid back. Though my hair prefers a natural state I permed it because it was too much to deal with, buuuut I really sorta regret it after seeing these pictures....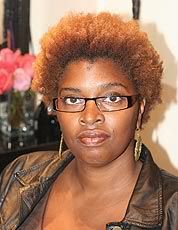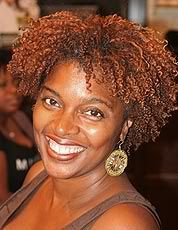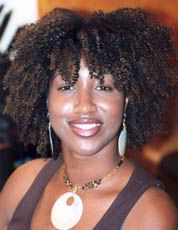 It looks like her hair grew 5 inches huh? Its amazing.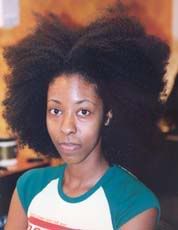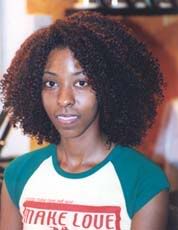 This is about how my hair looked after I took my weave out (after abotu two years of wearing it... I would wear it for about 2 months, take it out, get cornrolls for about a week or so, then put it back in) My hair thrives in its natural state, but it was too much for me to deal with, so I had to perm it, but I wouldn't have if I would have known about this product.
She has hair like Oprah :-)
Is it just me or does it really feel like someone is playing a trick on us? Lol, no but seriously, thats EXACTLY how I feel after viewing this. I keep thinking--- this can't really be real. Check out the gallery of transitions of women
undergoing the curly process here.
And the women above are
before/after, check them out here.
"ITS HARD TO BELIEVE THOSE 'NATURAL' BEFORE & AFTER PHOTOS ARE REAL. ARE YOU SURE YOU'RE NOT USING SILKENERS™ ON EVERYONE TO ACHIEVE THOSE CURLY LOOKS?
YES WE'RE SURE. WE ARE ABLE TO ACHIEVE CURL VIA CHEMICAL OR NON CHEMICAL METHODS. PLEASE GO ON THE BEFORE AND AFTER PAGE. THERE ARE DETAILED DESCRIPTIONS OF THE SERVICES THAT INDIVIDUAL RECEIVED.
I'VE BEEN ON YOUR BEFORE AND AFTER PAGE. ARE THOSE CURLY AFTER PICTURES WEAVES?
NO. WE DO VERY LITTLE WEAVE WORK.
"
Talk about taking the words or the question rather, right out of my mouth, lol! I was thinking some of these pictures MUST be weave. Let me just go on the record saying "I love you Miss Jessie, and I can't wait until your products make it to salons and chinese-owned beauty supply stores everywhere".
To PURCHASE these Miss Jessie's products visit the
online store
OR simply visit a
retailer near you
. Oh and if you do purchase pleeeeeeeeeease come back and tell me how you liked it.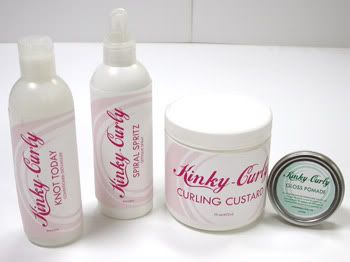 Now I've heard from people like Miss Afrobella that Miss Jessie's products are just too much (too expensive)... I can understand. So another equally as great, but less expensive product is
Kinky-Curly.
I sort of see these two as rivals, I haven't used either of them, but I want to!
Purchase Kinky-Curly here
. This line has supposedly been used by The Real Housewives of Atlanta-- which is pretty cool. I sent them a message on their myspace asking which product is best for permed/straight/relaxed hair, so we'll see what type of response I get.