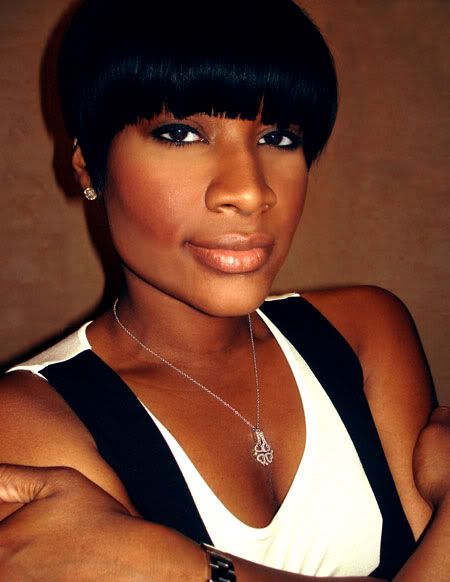 So you may ask... who's the mastermind behind these Rhianna cuts and hair dos, whoever it is she has single-handly changed fashion and style worldwide.... her name is
Ursula Stephen
! And she is THEEEEEEEE New Image Beauty Expert.
Oh my goodness there are so many things I can say, but I will just keep it short- Ursula is an icon! Ohhhhhhh my goodness Rihanna is nothing without those cuts dahling.... (well not in a mean way I adore Rihanna, but I'm just trying to make a point).
_________________________________________________


Q:
When did you begin your craft of hairstyling?
Well my high school was a beauty school- - so technically and officially I started doing hair my freshman year. It was called "Sarah J. Hale", located in Brooklyn. It saved my life and open many doors for me.
Q:
How did you get into doing hair for celebrities?
It was definitely a word of mouth situation. I had a couple of clients that worked at record labels or were in the business in some way. They basically put me on.
Q:
You're the stylist behind Rihanna's infamous bob. Why did you decide to do something that drastic with her hair?
Because I'm drastic! LOL. Rihanna wanted a new look. And I was tired of all these artist looking the same, that's so boring. I feel that back in the day artist took more chances with their look and I missed that. So, I decided to do the opposite. Everyone was doing long and brown, so I did short and black. I'm always changing my look so that also inspired her. Basically giving her that confidence.
Q:
There have been debates about who rocked the bob first. Was there anyone in particular whose hairstyle inspired the look you gave Rihanna?
Debates?? I inspired her Bob. I'm all about a great cut and that's been my trademark for as long as I can remember.
Q:
Summer is fast and coming. What advice would you give to Clutch readers looking for a shorter look for the season? Can shorter styles look good on anyone?
Shorter styles can look great on everyone. My advice is don't necessarily follow the trend. Find the look thats right for you. It's like jeans low-rise… it's not for everyone!!
Q:
You're known for your expertise in "new image" hair makeovers. Do you have to do something completely daring to someone's hair to create a new image?
How subtle can a new look be? Well you really don't have to do something daring, it can be as subtle as cutting a bang or changing the side that you usually part your hair. Doing something opposite than what you usually do is a makeover in itself.
Q:
What products would you recommend for us ladies whom have become attached to our flat irons?
(I carry mine in a holster at the hip!) Well one of my favorite products is FHI Hot Sauce. It's a great product that restores moisture and protects hair against damaging effects of heat without weighing the hair down and smells really good too!
Q:
My hair looks like a dried-out lion's mane when I wear it naturally curly. Is there anything I could do or use in my hair to tame the beast on my head?
The trick to taming curly hair is applying product to the hair when it is still wet. And the best products are leave - in conditioners. One of my favorite products are TIGI Bedhead leave - in conditioner (for curls) and another is Atone with Nature. I like leave - in's that cling to the hair without weighing it down. And these two are great for that — just the right amount of muscle.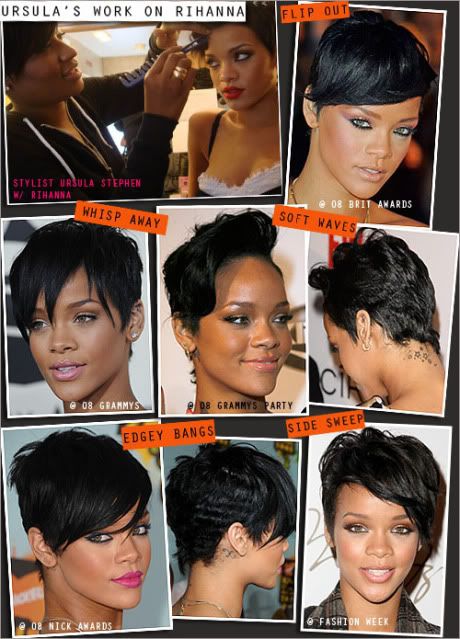 Someone should tell our beloved Ri-Ri,
"Without Ursula, you are nothing!"
(squint their eyes, smirk, and sloooowly walk away)
Q:
What hairstyles can we expect to see for Spring/Summer? Are bangs still popular, can we anticipate seeing more sleek middle parts?
Short hair will still be popular this summer. With combinations of heavy blunt bangs (old school), sexy side swept bangs. I also see middle parts coming back in a big way, but shoulder length nothing too long.
Q:
Where else can we see your hairstyling finesse? Who are you currently styling?
Well as you know Rihanna is one of my main clients, Michelle Williams — we just shot her music video. I also do lots of beauty stories with Essence and makeovers.
Q:
What's the most rewarding and challenging aspect of your career as a celebrity hairstylist?
As its always been making people feel good about themselves. Seeing that smile as though a miracle has just happened!! And also having my work broadcasted for the world to see:)
Q:
Lastly, what tricks do you live by? What are your personal trade secrets?
Well I can't tell u everything, [LOL] but heres a good one. Lipgloss on fly aways!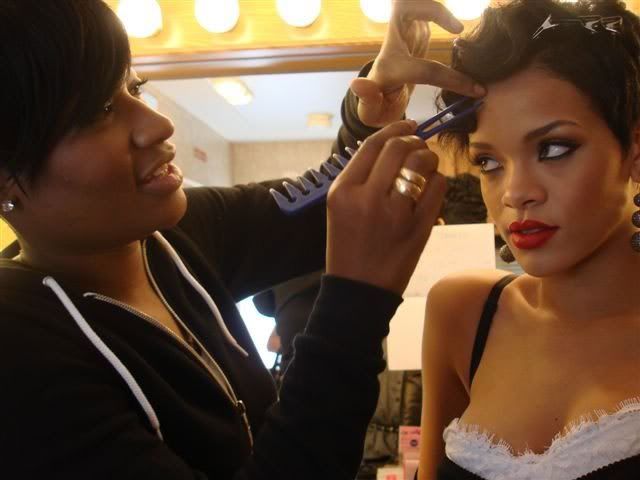 Where does Ri Ri find these people? She has the best wardrobe stylist, best hairstylist... I mean c'mon how lucky can you get (as far as imaging goes).
http://www.ursulastephen.com/home.html
http://www.ursulastephen.com/home.html
http://www.ursulastephen.com/home.html
I looooooove this woman. visit her site. adore her. worship her, lol!